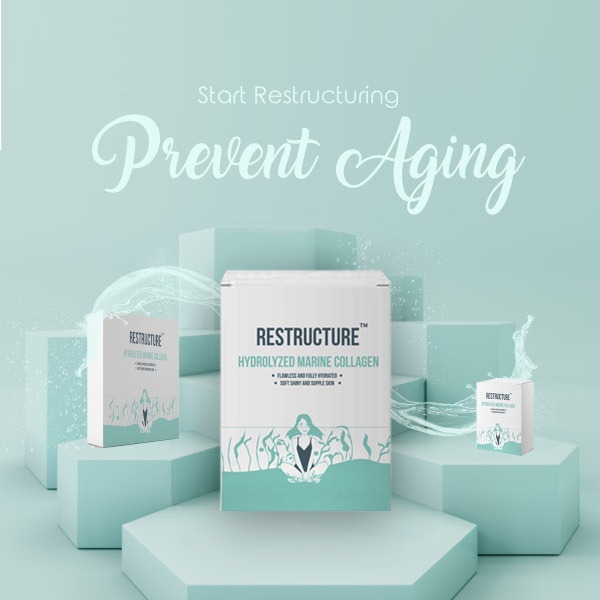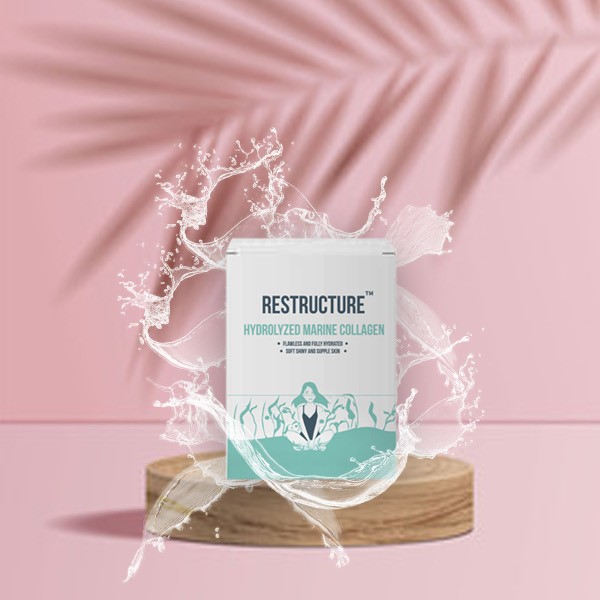 RESTRUCTURE
Restructure is the most leading and the finest supplement for collagen in powder form. It provides you with the highest collagen content, and it helps you to meet your protein needs. Restructure has immense benefits, and after a regular intake, you will end up with amazing results.
What Is Collagen?
Collagen is simply a protein, and it is made up of amino acids. Collagen is the most required protein for our body to lead a hale and healthy life. Collagen can usually found in our bones, muscles, skin, tendons, and ligaments. It should be richly supplied to our body as it plays a vital role in the connectivity of tissues. Nearly, collagen makes up thirty percent of protein content within the body.
Being a primary cause or agent of skin elasticity and firmness, it considers being the energy giver of skin and joints. Collagen is abundant in fish and seafood (marine foods), and it is also rich in meat, eggs, and dairy products. Collagen plays a constant role in an individual's nutritional requirements.
What does it consist of?
Scientists from Nanyang technological university Singapore (NTU Singapore) have found that collagen derived from fish scales could be effective for various biomedical applications. The restructure is primarily made up of the scales of fish. Marine Collagen forms a very important part of a holistic plan for better skin and hair. Collagen derived from fish scales is a proven agent for
Increasing skin elasticity
Firming of the skin and
Reducing wrinkles.
Marine Collagen peptides are a pure form of collagen, with a small molecular size, that helps in easy absorption and utilization of the ingested collagen in its hydrolyzed format. As we know, fish is a rich source of vitamin C, and so it is rich in Amino acids. Proteins and Amino acids are the building blocks of the body.
Undergoing a skin resurfacing procedure for your acne scars?
Here's why you should consider adding collagen peptides to your diet, NOW! Collagen Type I peptides are highly recommended post your skin treatments like laser resurfacing for acne scars and skin tightening - as these procedures aim to promote collagen turnover. Collagen supplementation at this stage is highly synergistic, as collagen intake increases the water content of the skin, promotes the formation of stronger collagen fibrils in the skin, and stimulates the secretion of hyaluronic acid by skin fibroblasts, in addition to drawing these fibroblasts to the site of wound repair.
Collagen Type I peptides are known to reinforce the natural support network of the skin, thus providing skin lifting and firming benefits, apart from their positive impact on bone health and overall well-being.
Why Restructure?
People are too much worried about the aging of skin and hair fall. It makes you desperate sometimes. Don't worry. The restructure is with you. The very word Restructure gives you the meaning of what amazing things it will do for you.
It is the best and the top quality collagen powder for skin and joints. It can be consumed by all, irrespective of their age differences. It is the best and secure supplement for women. Women are easily prone to the deficiencies of joints, bones, and ligaments after their forties. All the products of Restructure are about reinforcing the skin's natural collagen with supplements that closely match the original structure of the skin's collagen. You can consume it by adding it to the water.
Benefits include:
Regular intake of Restructure helps you in skin toning, and it makes the skin soft and supple.
It makes your skin so moisturizing, and it always makes your skin feel hydrated.
It will help you to retain the radiance of the skin.
It is rich in keratin properties. Keratin is one of the principal elements for the growth of hair.
It has remarkable anti-ageing properties. You will get rid of the annoying wrinkles and scars and wounds in the skin.
As we have seen it already, it aids in the firmness of the skin and the collagen in Restructure assist you in maintaining the skin elasticity.
Restructure for anti-aging:
Studies have shown that the ingestion of marine collagen at doses of 4 to 10gms per day increases skin elasticity by up to 40%, with results seen as early as six weeks, with maximal benefits coming in at three months of use.
Restructure for wound healing and scar improvement:
As collagen is the building block of the skin, benefits of collagen supplementation can be seen in all aspects of skin health, from wound repair to scar modulation to wrinkle reduction. Collagen supplements are useful in post-surgical wound healings and for better scar quality. Our product will do miracles for you.
Restructure for skin clarity:
Collagen supplementation has been studied to increase the water content in the top layer of the skin, the stratum corneum. It has a positive effect on the stimulation of younger collagen fibrils, naturally in the skin. And young collagen, as we know, promotes tauter, clearer skin, and, together with the increased ability to hold moisture, increases the skin reflectance and glow.
Marine Collagen for Hair:
Hydrolyzed collagen has been shown to improve the nourishment of hair in women, and as an adjuvant in men undergoing treatments for androgenetic alopecia.
Ultimately you will feel the miracles after consuming it regularly. To gain nourishments without any side effects, Restructure is a Magic choice.
The more you choose the right one, the more you live healthily....... Have acquaintance with Restructure every day. Lead a healthy life.